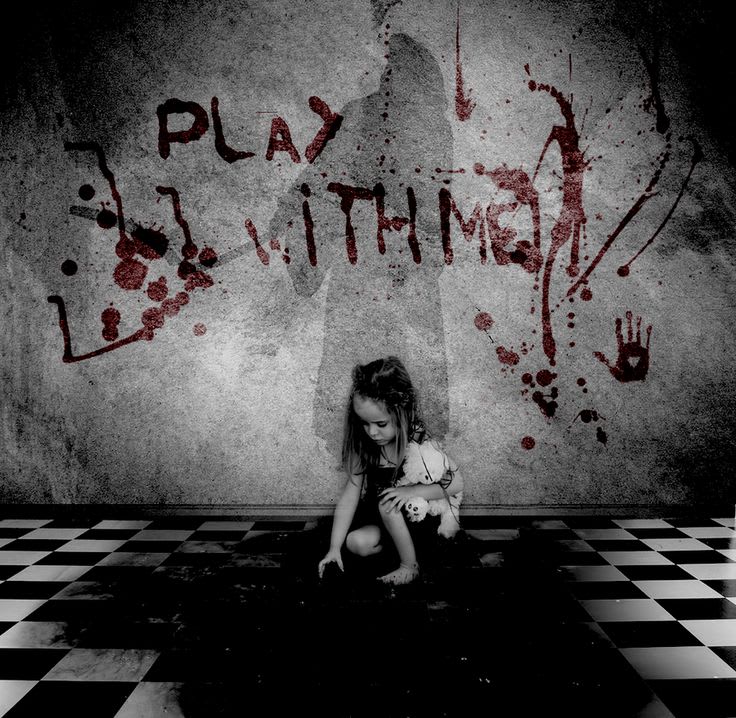 A little girl sat in a corner,
while her mother continued to ignore her.
"Maybe I was bad," the little girl thought,
but when the doorbell rang, she thought,
"Perhaps not."
Her mother stirred and look at the door.
"Thank goodness they're here; wouldn't've waited much more."
Who walked in but little Jenny and James.
"I don't like them Mother, they call me names."
But with a slam of the door, they were left alone.
"Let's play," said Jenny in a menacing tone.
Then James cried out, "Hide and seek!"
He then turned to Sally and whispered,
"Don't peek..."
She turned to the wall and said her first number.
It turned to a silence you'd find in a slumber.
She counted to ten like she was supposed to do,
where she would look first, she already knew.
To her Mother's den she wandered.
"What size of needle," she pondered.
On the the desk lay the needle and thread,
and soon came a scream that would wake the dead.
In and out the needle went,
she could see the blood that it sent.
One eye down and one to go.
She could hear Jenny scream as she continued to sew.
The next time James yelled "Hide and Seek!"
He could be assured that Sally would never, ever, peek.