Poets is powered by Vocal creators. You support
Reid Moore
by reading, sharing and tipping stories...
more
Poets is powered by Vocal.
Vocal is a platform that provides storytelling tools and engaged communities for writers, musicians, filmmakers, podcasters, and other creators to get discovered and fund their creativity.
How does Vocal work?
Creators share their stories on Vocal's communities. In return, creators earn money when they are tipped and when their stories are read.
How do I join Vocal?
Vocal welcomes creators of all shapes and sizes. Join for free and start creating.
To learn more about Vocal, visit our resources.
Show less
A Baby Went to Heaven While it Slept...
An Updated Adaptation of a Poetry Classic Found in the Public Domain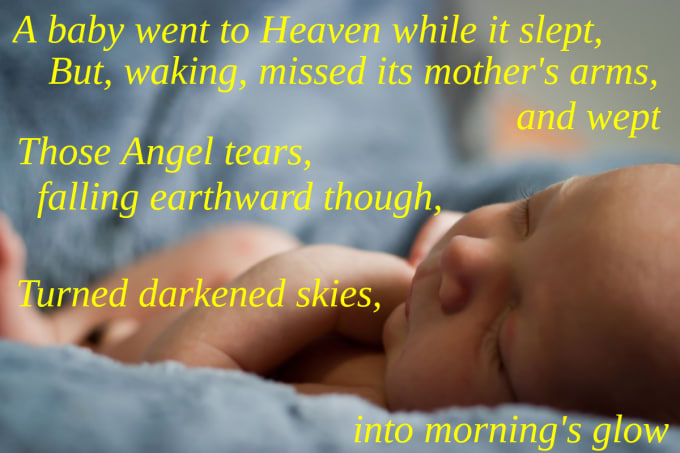 Paul McCartney, while working on Sgt. Pepper, had writer's block when it came to penning a lyric for a lovely melody which would eventually become "Golden Slumbers."

So, rooting around his library, he came upon a slim volume of poems so aged, they'd long passed into the Public Domain.

Most of what he read was too old fashioned to be of much use. But, one bit of verse caught his eye and, suddenly, the little ditty had turned into a classic.
Here it, is, word for word:
Once there was a way

To get back homeward
Once there was a way
To get back home
Sleep, little darling, do not cry
And I will sing a lullaby
Golden slumbers fill your eyes
Smiles await you when you rise
Sleep, little darling, do not cry
And I will sing a lullaby...
Staring at a frighteningly blank screen, I thought I might take the same approach and, humbly, I learned an entirely new lesson from the Old Master:
A baby went to Heaven while it slept,
But, waking, missed its mother's arms, and wept
Those Angel tears, falling earthward though,
Turned darkened skies, into morning's glow...
I wholeheartedly recommend to all who stare at a blank page, yearning for inspiration, that you try the same...